Over the years 3CB have supplied many steel buildings for Industrial purpose, these have included starter units for companies requiring smaller steel buildings and at a more affordable cost. Below you will see a few examples of our Industrial Starter Units that we have erected ...
11M HIGH BAY STORAGE WAREHOUSE
3CB were commissioned to obtain planning and undertake a total turnkey solution for this prestigious group. The group had to vacate its previous storage facility due to a housing project and establish a very large new store in a comparatively short period. The building itself at 27m x 47m x 11m was installed after demolition of an existing aged facility that was neither tall enough nor water tight. 3CB's galvanised hot rolled steel solution was designed precisely to the clients specification to achieve a high level of racking density and thereby maximise use of the floor area. After completion 3CB installed a sophisticated automated lighting system and fire alarm. 3CB completed the project to the requested time frame and the client was delighted with our overall quality of performance and of the building also. Click the photos below to view the construction timeline ...​
3CB recently undertook the design, supply and hazardous installation of a complex air entrainment building within a very large waste water treatment facility in the East Midlands. Time lines and working methodologies were tight. Working for a well-known and respected national main contractor on this project, and the successful completion of the work undertaken by 3CB, has led to further significant project work since - including new build and refurbishment work.​
MAKE AN ENQUIRY OR REQUEST A QUOTE​
Industrial Steel Buildings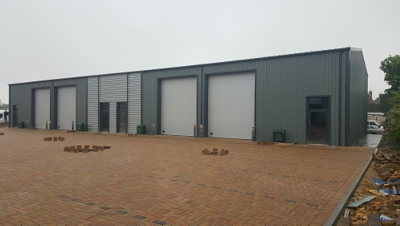 Three Counties Steel Buildings has succeeded in becoming one of the UK market leaders in its field by matching and exceeding the requirements of the Industrial, Equestrian, Agricultural, Leisure, Educational and Commercial market sectors, with the need to ensure the design and manufacture of high quality and associated products, delivered and correctly and safely constructed on time with the very minimum of disruption to day to day trading.
Consequently we consider strong communications with our potential customers paramount and we ensure our trained Sales Staff assist with cost effective design, without over specifying whilst fully understanding client expectations in terms of the steel building specification, time scales, planning constraints, working/construction environment etc.
Our dedicated Contracts Management Team work closely with our Customers setting out timing plans and ensuring a timely and safe process throughout. Whether the requirement is a full Turnkey package incorporating groundworks, steel building installation and fit out or the simple supply of a prefabricated steel building 'kit' for the Customer to self construct.
​
The result of Three Counties Steel Buildings commitment to total service of the very highest standard is that we have many, many repeat customers not only from within the small to medium sized business community but also many blue chip companies, Private and Public Sectors Organisations, National Contractors, Educational Facilities etc - an important factor when considering a large investment in a new building and the implications upon the future of the business or organisation.​
We monitor our success but requesting completion of a Customer Satisfaction Questionnaire for each and every project or 'Supply Only' building we undertake – actively encouraging completion by offering retail vouchers or charitable donations for completed forms.
This feedback is used as part of our Continuous Improvement Programme to ensure the best gets better!
We have a range of offerings to suit differing markets and requirements:-
Firstly a cold rolled solution designed using state of the art design software that links electronically with the manufacturing facility to provide seamless transfer of data to produce a highly cost effective product range aimed at the smaller to medium sized steel building.
Technically this product incorporates tough galvanised structural steel framing sections to give: -
Single clear spans of over 25 metres (65') plus the option for valley gutters for yet wider applications.
Eaves heights of up 7 metres (23') and more
And, thanks to our portal frame design, as long or as short as our customers require.
Alternatively we offer a more traditional hot rolled steel frame solution that is applicable to the larger projects. Equally durable and available with either painted or hot dipped galvanised structural steel members.
Whichever solution is applicable we offer a truly vast range of finishes including heavy duty Plasticol (a tough and durable plastic coating with a leather grain effect), Polyester and a selection of premium grade finishes which we find are often specified for the more prestigeous facilities. All of these finishes are available in insulated or un-insulated format to a huge range of standards, giving a long lasting, hard wearing and attractive finish to any new investment.
All of highly sophisticated design systems allows for easy future expansion as we retain details on all of our projects, making the addition of further bays very easy and error proof.
Our options include: -
Planning and Building Regulations Service
Groundworks
Insulated or Un-Insulated buildings large or small
Main access doors (roller, concertina, sectional and sliding) of up to 20 metres wide and 8 metres high - insulated and un-insulated.
Personal access doors (in steel, aluminium, UPVC and wood) either outward or inward opening and in a range of widths plain or with vision
panels, ventilation, crash exit systems etc...
Skylights (single skin or double skinned cavity for insulation) in the roof to give natural daylight and reduce power consumption,
Our own '3CB Drip Stop' premium grade anti-condensation barrier to stop roof drips within un-insulated buildings
A panel insulation system for the walls and/or the roof of 40, 60, 80, 100 and 120mm thick and with insulation (U) values as good as 0.15W/msqK. Or alternatively, for a more recyclable solution, we offer a 'built up' insulation system with independent outer and inner linings and insulation medium.
Timber and tile cladding for locations requiring a sympathetic aesthetic finish.
Lean-tos and internal divides.
Custom Steel Buildings
Windows in a range of materials and customised in size.
Part brick/blockwork walling internally or externally
Internal and external fit out
Mezzanine Floor
Racking & Storage Systems
Industrial & Commercial Mirrors
And much, much more - please enquire for details
Plus of course the choice of taking your building in prefabricated 'Kit Form' with building instructions and telephone support or we have a full construction service using teams of trained and insured personnel who are available on a National and International basis.
We deliver buildings anywhere in the UK and Overseas.
For further information please contact a member of our sales team on 01531 822 251 or email your enquiry to Sales@3CB.co.uk
More information....
Steel Building Construction
Three Counties Steel Buildings Ltd can provide drawings for its steel framed building construction, which can be used for planning applications, and where required can supply building calculations to meet the need of local authorities. Since our steel building constructions are of sectional design they are comparatively easy to assemble and can be supplied in self build kit building form
Galvanized Steel Buildings
We produce galvanized steel buildings which are robust and rust proof, ideal for outdoor purposes. Our galvanized steel buildings are suitable for garages, carports and agricultural purposes. We have a number of teams that operate both nationally and internationally, who can undertake the construction of your galvanized steel buildings on a small or large scale.
If you feel we could assist, or advise, please call a member of our Sales Team on 01531 822 251 or email sales@3CB.co.uk
​
INDUSTRIAL STEEL BUILDINGS

Steel Buildings Specialists offering a National & International service
Get in touch with 3CB today for advice
& a no obligation quotation