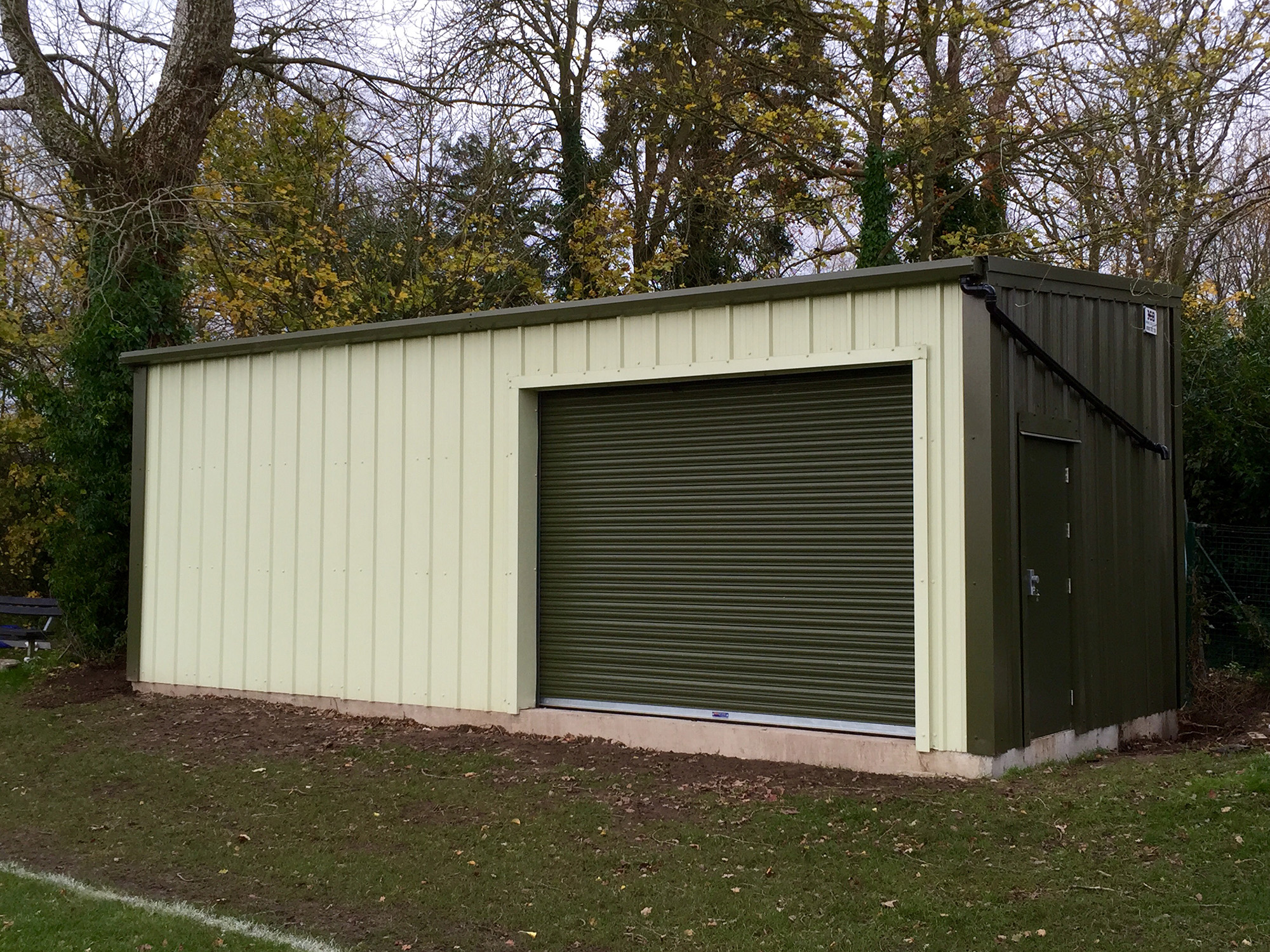 Here we see a novel solution for a village football club designed and installed by 3CB. As can be seen the roller door is of a somewhat lower height than the rear eaves of this mono pitch design of building. The reason being the club wanted to be able to store football goal posts in the higher, rear, portion of the building. This enabled the steel framed building to be at the lowest height possible to minimise its impact on the playing fields.​
OIL & EQUIPMENT STORAGE BUILDING
This small storage building was designed to segregate oil storage from other items of equipment that didn't require a large roller door but rather one of our high security pair and single side hung steel door systems. We subdivided the building with blockwork which can also be done in a range of our fire rated insulated panels or in a low cost single skin steel sheet system.​
3CB designed and installed this smaller storage building for a local cricket club. Unusually if has a 30° pitched roof to give the club some roof storage space for various items of equipment. So it was a designed specifically suited to their needs and has proved a useful addition to the ground.​
MAKE AN ENQUIRY OR REQUEST A QUOTE​​
Domestic And Temporary Steel Building Projects​
We fully appreciate that some of our Customers wish to construct our buildings themselves and consequently we provide the perfect 'Self Build' solution.
Three Counties Steel Buildings provide an unrivalled level of service in the prefabricated steel framed building market, since 3CB's self assembly package includes outstandingly comprehensive A1 sized construction drawings, a construction manual and telephone support.
Thereby ensuring our Customers can undertake a trouble free installation without the anxiety associated with insufficient information or components.​
Our Prefabricated Steel Framed Sectional Buildings are a lot more than simple steel sheds but with the support we offer in our '3CB Total Self Assembly Package' we make the construction easy for you. The entire product range offered by Three Counties Steel Buildings Ltd is of a premium quality standard so we certainly don't consider our products to be steel sheds or metal sheds.
Alternatively we can, of course, arrange construction through one of our fully trained teams who operate on a national basis. Please contact our offices for full details.
Thanks to the heavy investment made by Three Counties Steel Buildings Ltd in sophisticated design and manufacturing technology we can provide Construction Drawings unrivalled in the Steel Buildings market.
The detail we provide our customers allows a swift, easy construction of your self build project.
​
We can provide Customers with a prefabricated steel framed sectional building engineered to any size (literally to a millimetre) providing the opportunity to select: -
Any overall building length – limitless thanks to our portal frame design – Customers can even add bays at a later date if they find they need more space!
Multiple bay steel framed garages.
Eaves heights from 2metres to 7metres and more.
Customisation to suit any particular vehicle or needs and provide that much needed extra space for a workshop or work/hobby benches etc.
The number, size, type and location of main access doors.
Number and style of personal access doors.
Number, size and location of windows in a range of styles.
Skylights in the roof for natural daylight and reduced energy consumption.
Our buildings can be clad in an un-insulated format, fully or partially insulated (to various levels of thermal performance) or timber to suit various environmental and aesthetic requirements.
Provision of '3CB Drip Stop' premium grade anti condensation barrier to prevent drips in un-insulated buildings.
Sizes and locations of lean-tos if required
Steel Sheds for storage
And with our '3CB Prefabricated Self Assembly Package' customers can easily construct their ideal steel building.
Contact 3CB for more information by Email
Our domestic prefabricated sectional steel framed buildings utilise light weight, tough, high quality galvanised steel sections to provide a long lasting and robust framework for your steel sheds storage building, garage, workshop or carport. Not only does the steel building look attractive but will stay that way for many years to come. Thanks to our ingenious design the sections are extremely strong yet light enough to make self-assembly easy.
​
DOMESTIC & SELF BUILD STEEL BUILDINGS
Every prefabricated steel building comes as a complete 'kit' including a build manual, exploded assembly drawings and every last nut and bolt! If a Customer ever gets stuck we offer a 'phone assist help line with technically trained and experienced personnel to assist as part of the all in price. Failing that if things really go wrong (and to this day we have only had one such instance!) we can send a team to sort it all out - though there is a charge naturally. So you have a safety net!​
Alternatively, we have a national network of trained and insured construction teams who can put your steel framed building up – they even work outside the UK if required. Contact 3CB for more information on Email
We can happily arrange for potential customers to view existing installations as we have supplied hundreds of steel framed buildings all over the UK and overseas to such places as Malta, Gibraltar, The Falkland Islands and Afghanistan. Email Info@3CB.co.uk with any Self Build and Smaller Projects enquiry and our trained team will be happy to answer any questions.
Either way our Customers can be sure that they received a high quality single, double, triple or larger garage, workshop or steel sheds that they always dreamed of at a price that didn't give them a nightmare!
To complete the fit out of our steel buildings and maximise the space, whilst keeping everything neat and tidy, we recommend our cost effective racking and storage equipment. This will put the finishing touch to the final installation...
Please call now to speak to one of our many trained and courteous Sales Staff for a no obligation quotation on 01531 822 251* (Calls charged at Standard National Rate) or email your enquiry to sales@3CB.co.uk
If your project is suited for our 'Turnkey' solution visit our Industrial & Commercial Buildings page or Return to Three Counties Steel Buildings Homepage
More information....
Steel Building Construction
Three Counties Steel Buildings Ltd can provide drawings for its steel framed building construction, which can be used for planning applications, and where required can supply building calculations to meet the need of local authorities. Since our steel building constructions are of sectional design they are comparatively easy to assemble and can be supplied in self build kit building form
Galvanized Steel Buildings
We produce galvanized steel framed buildings which are robust and rust proof, ideal for outdoor purposes. Our galvanized steel buildings are suitable for garages, carports and agricultural purposes. We have a number of teams that operate both nationally and internationally, who can undertake the construction of your galvanized steel buildings on a small or large scale.
Another typical home workshop and garage. In this instance the client wished for a fibre cement roof. Rooflights and windows made for pleasant and light useful workshop space with easy access via the premium quality personal access and roller doors.​
A typical garage which is easily self-built by a few semi-competent individuals. Our bespoke design service can enable our Clients to specify where the windows are to go, what size that require etc etc. Ensuring that the solution is precisely in line with needs.​
Here we see a larger building originally supplied by 3CB with a later requirement for an additional small games store attached a year or so later. Because we archive every project we can ensure effective design integration and a swift installation.​
In addition to building design and installation 3CB can supply and install racking and other storage systems. With careful design this leaves nothing to chance nor wasted floor space and ensures ready access where necessary. Where required we offer a 'set-out' design service to assist in this regard.

Steel Buildings Specialists offering a National & International service
Get in touch with 3CB today for advice
& a no obligation quotation